Crystal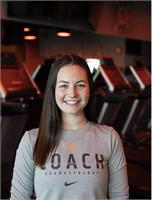 WHAT DO YOU BURN FOR?
Eating more food and because I love physical activity!
WHAT'S YOUR GUILTY PLEASURE?
Carbs and chocolate.
WHAT'S YOUR FAVORITE OTF EXERCISE?
The Frogger!
Crystal instructs the following:
The largest capacity workouts at OTF. 3 Groups training in all 3 areas of Treadmills, Rowers and Weight Room at the same time. The duration of the training blocks for each area will be varied.




60 Minute Orangetheory Workout




The longest workout at OTF. Typical workout will be 40 minutes of treadmill intervals and 40 minutes of floor blocks including weight room and rowers. Think Muscle Endurance and your highest calorie burn at OTF!